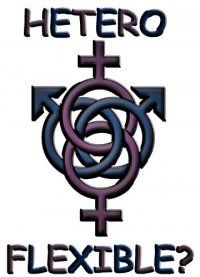 En estos tiempos de revolución sexual cada vez más son los términos utilizados para definir diferentes tipos de variantes que experimentan los humanos dentro de su propia sexualidad. Si bien ya conocemos los términos que componen las siglas LGBTTI (lesbiana, gay, bisexual, transexual, transgénero e intersexual), también sabemos que hay otra gama de definiciones dentro del marco de la sexualidad como lo son los Pansexuales, Asexuales y otros.
Pero, este término llamado en nuestra cultura popular (pop culture) Heteroflexible ¿a que se refiere?
De acuerdo a las definiciones que se pueden encontrar en internet, el término se refiere a una persona que es primordialmente heterosexual, pero puede tener sexo ocasional o algún tipo de encuentro intimo con una persona de su mismo genero.
Se piensa que esta es una modalidad de expresión utilizada mayormente dentro del grupo juvenil y los que están comenzando a explorar su sexualidad, muchos jóvenes se encuentran abiertos a la posibilidad de experimentar sexualmente y pueden llegar a tener encuentros sexuales con personas de su mismo sexo simplemente por curiosidad, sin que esto determine su orientación sexual.
Creo que este tipo de experiencias sucede mucho más frecuente en estos tiempos donde la sexualidad ha dejado de ser tanto un tabú dentro de la generación que vivimos, los jóvenes están más prestos a darle riendas sueltas a su imaginación, a su curiosidad y a su apetito sexual. Debemos ser precavidos en estos juegos sexuales, siempre es importante protegerse de las enfermedades de transmisión sexual, no importa el tipo de encuentro que usted lleve a cabo.
Hay una canción muy popular que describe este tipo de conducta, la misma es la canción de Katy Perry "I Kissed A Girl" donde ella explica un encuentro casual con una chica a la cual besó, lo describe como algo inocente y que ella disfrutó. Katy explica que esta canción es basada en una experiencia personal y que solo se trata de la curiosidad sexual.
Un estudio por el Centro de Prevención y Control de Enfermedades (CDC) reveló en el 2005 que más mujeres, especialmente adolescentes y en sus 20's están experimentando con la bisexualidad o están mas dispuestas a hacerlo. Al menos un 14% de las mujeres en sus 20's han tenido un encuentro sexual con otra mujer. Lo mismo puede estar ocurriendo con los chicos, aquí lo más importante a parte de practicar la sexualidad de una manera segura, es que cada quien se pueda sentir cómodo y seguro de su propia identidad y orientación sexual.
¿Alguna vez has escuchado a alguien decir lo siguiente? Una vez me besé con alguien de mi mismo sexo, pero no paso nada más. No soy homosexual, solo fue una experiencia.
Gracias por dejarnos sus comentarios en el foro, no olvide compartir el articulo!
VIDEO MUSICAL DE LA CANCION "I KISSED A GIRL" DE KATY PERRY
ACERCA DE LA AUTORA:
| | |
| --- | --- |
| | Meryland Cuevas es bloguera, madre, poeta, narradora, aficionada de las redes sociales y comprometida con el activismo por la justicia social y la igualdad de los seres humanos. Amante del arte en todas sus expresiones, le encanta viajar, la fotografía y la gastronomía. Posee un bachillerato en Ciencias de Administración de Empresas así como estudios Graduados en Administración y Salud Pública. Sígueme en FACEBOOK y en TWITTER |
Let's stay in touch! Please like and follow me in these Social Networks. I hope you enjoy my posts and share them with your friends. Thank you
Meryland Cuevas, is an Award-winning Latina Influencer, Content Creator, Brand Ambassador & Social Media Strategist. She is also a Certified Transformational & Assertiveness Coach, Public Speaker and Author. Let's connect on Social Media, I promise you will always get good stuff from me.
"Dreams have no expiration date"