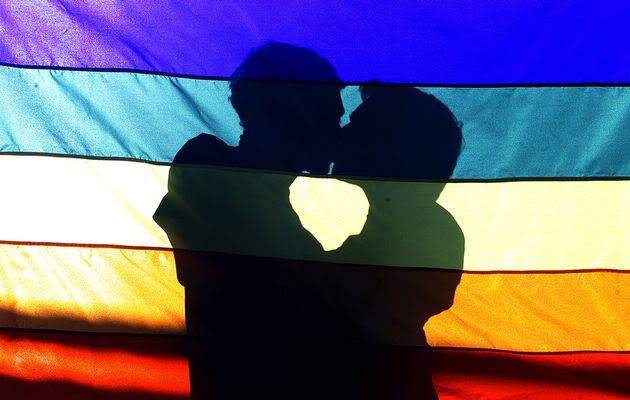 Recently one of my readers approached me with a concern; she explained that some of her friends wanted me to write about the subject of public demonstrations of affection of the LGBT people.

I found the topic interesting, so here I present my analysis of it. (this article is also in Spanish click here Articulo en Español )

A few months ago the actress from the series The L Word, Leisha Hailey had a run with the crew of Southwest Airlines, who asked her leave the plane she was traveling with her partner, and what was the reason for the situation? The girls were kissing and according to the press release from the airline, passengers complained that the behavior of the ladies was an excessive one (read more eonline).


As you can imagine this has created a scandal because Leisha says the airline crew acted in a homophobic manner and that their kisses were not so exaggerated or passionate.
The airline submitted a statement on its website, which offered apologies to passengers and emphasized the fact that their action was prompted by complaints of those who felt the scene and behavior was too much, without giving any specific details ( SouthWest – flight 2274 statement).
The actress insists they were removed out of discrimination and has threatened to take the case to the last consequences.
The E-online website did a survey asking their followers about their feelings on gay public displays of affection (known as Gay PDA = Public Display of Affection). Interestingly the results do not point to a great dislike of the audience to the "Gay PDA" rather, toward public displays of affection in general either gay or straight.
The survey showed the following results:
Gay PDA Does More Than gross you out straight? Poll PDA Gay – Eonline


16.7% Yes: I ADMIT it-same sex Makes my stomach churn tongue
28.8% No: Saliva Does not bother me sword fighting gay or straight-


54.5% Neither: I hate PDA in general and wish It Could all be banned

While in Spain, in 2010 it was published the results of a survey which indicated that only 32% of the Spanish gay people dare to show affection in public, a total of half a million people participated in this survey by gay-parship.es; according to its authors, 68% of gay people in Spain, despite the growing acceptance of them in the country, still feels judged and are not comfortable with expressing affection publicly. (See survey results google.docs).

In my opinion, demonstrations of affection whether gay or straight are very private things, and are in very bad taste to walk on every corner smooching and wringing in public view.

I was recently in La Feria, enjoying my family's first Gay Days and when I went out with my partner and my son (who is 6 years old), we saw two young heterosexuals lovebirds leaning against the fence of the park (these were 2 separate couples of young boys and girls in the same spot), very closed to each other, under the light pole (that was very visible), they were basically taking out their tonsils with their tongues.

I found it disgusting and in bad taste to see these "kids" especially in a place full of children of all ages, making this distasteful sexual display, and even worse, that my small son has to see it, as they were doing it indiscriminately in view of all. The French kissing and tongue sword fighting are left to be done privately, do it at home, in your car, in the bathroom, but do not make a public show of your passions because nobody is really that interested in seeing it.

On another occasion I was with my partner and my son in a family activity at the home of a lesbian couple, this activity was nothing more and nothing less than the birthday of the grandson of one of the owners of the house, the baby turned 3 and you can imagine that the house was full of children. We had many gay couples, men and women. Heterosexuals were also sharing with the family in the activity and then came this couple of young lesbians, who arrived with one of the guests.

These two girls, I think would have about 18-19 years of age each. They were on a journey of hormones and pheromones that no one could stop them. They sat apart from the rest of the group cuddling and hugging. They grabbed, hugged, leaned against one above the other, totally out of control!! . Now the rest of us who were there (mostly gay, older couple than they) were very uncomfortable with the issue, especially because of the children who were at the scene.

In short, my view is that coming from whoever comes, there are some demonstrations of affection that are not to be made public. Everything has its place and time. I am a person who is happy to show how I feel when I feel it, but always show it with the respect other people around me deserve.

This is not about imposing your sexual orientation or your love to the rest of the world, this is about respect, not only for yourself as an individual, also respect to your partner and those around you. If I go shopping, I have no problem with holding the hand of my partner in the mall, sometimes I hug her when we're in the checkout line, I kiss her on the cheek, I call her my love, just as I do with my son. But nothing to do with smooching and tongue kissing in plain sight, is in very bad taste. Even when we're in a gay bar, we are not trying to take our tonsils out like that!

Think about it … Would you be tongue kissing in front of your mother? In front of your father? In front of your family? , ¿ would you be sticking your tongue into your partner in an activity of their work or your own? How about in church? If you think like me, then you would say no to all these questions.

If you want to stick your tongue to your partner everywhere in public, with no respect for others, then do not complain if people look bad at you, do not complain if you are asked to leave from where you are and do not say they are discriminating against you for being gay.
Simply put, nobody is forced to look at you while trying to get the vocal cords or the tonsils out of your partner with your tongue while in public. Show respect and receive the same in return. And if you're really desperate on the street to jump all over your partner, go to a motel, get a room and for a few dollars get your issue solved :-).

What do you think?
ACERCA DE LA AUTORA:
| | |
| --- | --- |
| | Meryland Cuevas es bloguera, madre, poeta, narradora, aficionada de las redes sociales y comprometida con el activismo por la justicia social y la igualdad de los seres humanos. Amante del arte en todas sus expresiones, le encanta viajar, la fotografía y la gastronomía. Sígueme en FACEBOOK y en TWITTER |
Let's stay in touch! Please like and follow me in these Social Networks. I hope you enjoy my posts and share them with your friends. Thank you
Meryland Cuevas, is an Award-winning Latina Influencer, Content Creator, Brand Ambassador & Social Media Strategist. She is also a Certified Transformational & Assertiveness Coach, Public Speaker and Author. Let's connect on Social Media, I promise you will always get good stuff from me.
"Dreams have no expiration date"