Amigos, les invito a participar de este sorteo donde podrías ganar una de diez tarjetas de regalo de Walmart, valoradas en $50 cada una.  No tienes absolutamente nada que comprar para participar, asi que aprovecha que la suerte te puede estar buscando y esos $50 vienen super buenos ahora con el regreso a las clases.
Este concurso es traído por Walmart y la crema PROCure Bruise Remedy Gel,  que es buenisima para remover los moretones y las venas varicosas (spider veins).   Esta hecho con una fórmula natural que contiene nutrientes,  Arnica Montana, MSM y Sábila.
Algunas ventajas de este producto:
Es un gel tópico único que ayuda dramáticamente a mejorar la decoloración de la piel debido a moretones y venas de araña.

Fórmula concentrada con Arnica Montana y MSM de alta calidad, calmante y botánica, en un tamaño portátil conveniente.

El aplicador suave "sin contacto" dispensa el gel sin aplicar presión dolorosa al área magullada.

Es imprescindible para tener en nuestro gabinete de medicina, para usarlo inmediatamente después de un golpe o caída – incluso antes de que aparezca un moretón.

No es grasosa y sin fragancia.

Contiene Arnica Montana – Anti-inflamatorio homeopático con propiedades anti-bacterianas. Recomendado por cirujanos plásticos y atletas para minimizar moretones e hinchazón.

Contiene MSM Nutrient – Compuestos de azufre naturales que son necesarios para la salud de los tejidos. Probado para aliviar el dolor, reducir la hinchazón y ayudar a la curación natural.
Puedes aprovechar a través de este post y  obtener un descuento de $2.00 en la compra de PROCure Remedy Gel que puedes redimir en Walmart.  Imprime el siguiente cupón aquí:
Tambien puedes obtener un descuento adicional en los sobres de cupones de Valpak que recibes por el correo.
A continuación las reglas para participar del concurso:
Concurso comienza el Miércoles, 2 de agosto a las 12:00 AM ET y termina el martes 8 de Agosto a las 11:59 PM ET.

Diez (10) ganadores recibirán una tarjeta de regalo de $50 Walmart.

Los usuarios entran en el sorteo registrando su dirección de correo electrónico en el formulario en la parte superior de la página.

Los ganadores serán elegidos a través de un sorteo de lotería y notificados el miércoles (8/9) a través de la dirección de correo electrónico que utilizaron para entrar.

Ver las Reglas Oficiales completas para instrucciones de entrada, descripciones completas de premios, restricciones y otros detalles importantes.

Válido solo para participantes residentes en los Estados Unidos (50 Estados y Distrito de Columbia), mayores de 18 años.
Presiona aqui para participar: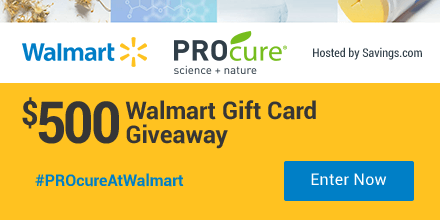 ¿Qué te parece esta oferta?  Comparte tus comentarios aqui:
---
Let's stay in touch! Please like and follow me in these Social Networks. I hope you enjoy my posts and share them with your friends. Thank you
Meryland Cuevas, is an Award-winning Latina Influencer, Content Creator, Brand Ambassador & Social Media Strategist. She is also a Certified Transformational & Assertiveness Coach, Public Speaker and Author. Let's connect on Social Media, I promise you will always get good stuff from me.
"Dreams have no expiration date"