---
No pierdas la oportunidad de participar de este Sorteo para ganarte una de 10 Tarjetas de Regalo de Walmart, valoradas en $50 gracias a la promoción de Dr. Scholls.   Aprovecha tambien el cupon de $10 descuento que te incluyo en este post para tu próxima compra de Dr. Scholls!  
Los detalles: 
Válido desde el lunes, 21 de agosto a las 12:00 AM ET hasta el domingo, 27 de agosto a las 11:59 PM ET.

Diez (10) ganadores recibirán una tarjeta de regalo de $50 Walmart.

Los participantes entran en el sorteo mediante la presentación de su dirección de correo electrónico en el formulario en la parte superior de la página.

Los ganadores serán elegidos a través de un sorteo de lotería y notificados el lunes (8/28) a través de la dirección de correo electrónico que utilizaron para entrar.

Ver las Reglas Oficiales completas para instrucciones de entrada, descripciones completas de premios, restricciones y otros detalles importantes.
Print this coupon and save $10 on your next Dr. Scholls purchase at Walmart
Don't miss the opportunity to participate in this Giveaway and a chance to win one of 10 gift cards from Walmart with a $50 value ea, thanks to the Dr. Scholls promotion.  Take advantage of the attached $10 off coupon for your next Dr. Scholls purchase.    
The Details:
Valid from Monday, August 21st at 12:00 AM ET to Sunday, August 27th at 11:59 PM ET.

Ten (10) winners will receive a $50 Walmart gift card.

Users enter the giveaway by submitting their email address on the form at the top of the page.

The winners will be chosen through a lottery drawing and notified on Monday (8/28) via the email address they used to enter.

See complete Official Rules for entry instructions, full prize descriptions, restrictions and other important details.
Click Here to Enter for your Chance to Win!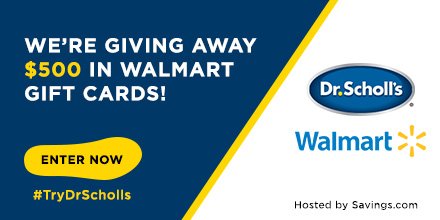 ---
Let's stay in touch! Please like and follow me in these Social Networks. I hope you enjoy my posts and share them with your friends. Thank you
Meryland Cuevas, is an Award-winning Latina Influencer, Content Creator, Brand Ambassador & Social Media Strategist. She is also a Certified Transformational & Assertiveness Coach, Public Speaker and Author. Let's connect on Social Media, I promise you will always get good stuff from me.
"Dreams have no expiration date"